ReFa - the most popular lifting massagers with microcurrents for face and body in Japan!
Not so long ago (in 2009), the Japanese company ReFa set a goal - to develop a compact massager that will transmit the movements of the hands of a professional masseur with maximum accuracy. And judging by the reviews of satisfied owners of massagers of this brand - they succeeded!
For three years, MTG ReFa Carat massagers were selling only at "home" in Japan, but starting in 2012, devices began to be sold abroad. Asia, Europe, America - they so highly appreciated the advantages of the device that by 2015 the number of sold had reached 4 million units.
What is the reason for such popularity? Let's talk about all the "facets" of these beauty devices.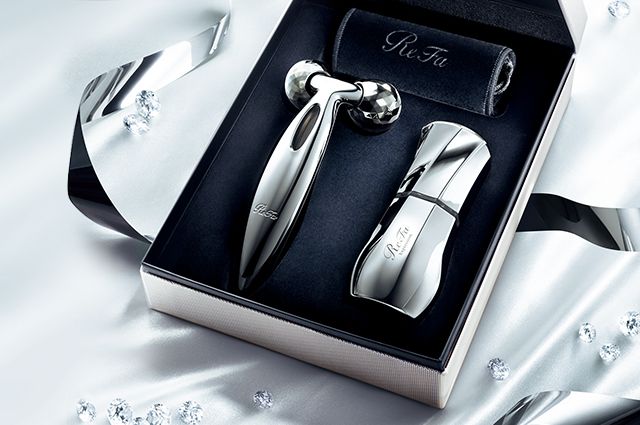 ReFa: design and use
The feeling that you have not spent a pretty impressive amount of money in vain will begin as soon as you open the package. The original packaging implies the presence of the device itself, a solid box with a velvet cover, a microfiber tissue for wiping the device and instructions.
At first glance, it may seem that the ReFa platinum massager (MTG Company) is simultaneously "cosmic" and simple:
two platinum spheres, the surface of which is covered with small facets;
small solar battery for generating microcurrents;
ergonomic and comfortable handle, high water resistance;
How to use it?
Select an area. This may be the face, neck and decollete, belly, legs or lower back;
Roll in both directions along the lines of your face and body, pulling up the areas where the skin is soft;
From the first movements you feel how pleasantly and relaxingly the device functions: the facets on the spheres gently massage the skin, and the microcurrents generated by ReFa are so insignificant that you will not feel any discomfort. Only good sensations.
After using wipe with the tissue that was in the box.
Which ReFa model to choose?
1. MTG - ReFa Carat
This is the first-born of the company. Massagers of this series are designed for face and body.
Face: reduce swelling, face contour lift, work with the double chin and impact on the nasolabial zone;
Body: relieving the sensation of tension in the cervical zone, tightening the areas in the armpits and hips, helps to highlight the waistline and helps to relax the legs after a hard day.
2. ReFa Active - men's line.
Areas of use are similar to the previous one.
3. ReFa S Carat - a series for delicate and inaccessible places.
Devises from this series will help smooth out delicate skin and relieve swelling around the eyes, between the eyebrows and in the nasolabial area.
These, of course, are far from all the options that the manufacturer offers. You can buy massagers exclusively for the head, eyes, as well as sound ionic devices for cleaning the skin.